As the regional dealer for all new Beneteau sail and power yachts, St. Barts Yachts is also your source for Beneteau parts. Beneteau has delegated parts distribution to the dealerships so that the factory can focus on building quality performance boats.
Please call us directly for spare and replacement parts, being as specific as possible. Or, fill out the submission form below and feel free to add pictures for reference. Having worked for Beneteau for over 30 years, service manager Jean-Michel Morisson is intimately familiar with the many models and will help you find exactly what you need.
St. Barts Yachts also keeps a small selection of parts and supplies in inventory. Let us know what you are looking for and we can let you know if we have it or where to find it.
---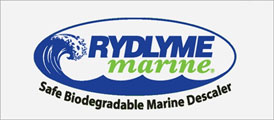 St. Barts Yachts is your regional distributor of Rydlyme, The World's Leading Biodegradable Descaler.
RYDLYME is Effective! It dissolves approximately 2 lbs. of lime per gallon!
RYDLYME is Non-Hazardous! It does not fall under any of the seven federally designated classes of hazardous waste!
RYDLYME is Biodegradable! It has a biochemical oxygen demand of 16 mg/l and can be disposed of through normal plant sewers!
RYDLYME is Safe! It can be held in the open hand without injury!
RYDLYME is Economical! Call us at 800-451-6291 to have us perform a RYDLYME Cost Savings Analysis of your next application!
RYDLYME is Approved! NSF/ANSI 60, NSF, U.S. Navy and many others!
$35.00 per Gallon, plus shipping.