Owning a boat is an investment in your quality of life and therefore should be well taken care of. St. Barts Yachts is fortunate to have an in-house Service Department in Charleston, SC with 30 years of experience repairing, maintaining and improving both sail & power boats. As the closest dealer to the Beneteau factory in Marion, SC, our team has had the opportunity to commission hundreds of Beneteau sail and power boats over the last 30 years.
In Oriental, NC we are privileged to be adjacent to the team at Zimmerman Marine Service. Located just off the ICW, Zimmerman Marine Service offers professional repairs and maintenance for your boat. In business for over 30 years, Zimmerman Marine is a full service boat yard, capable of handling any boat project.
So whether you need warranty repairs, electronics upgrades or a gelcoat fix, St. Barts Yachts has the team and the resources to safeguard and even enhance your investment. Our trained and certified team is capable of handling all of your boating needs from mechanical & electrical to rigging & painting.
Decommissioning for Transport
Battery Replacement and Upgrades
Electronic Systems Upgrade and Refit
TV/DVD/Stereo Systems Upgrades and Installation
Solar and Wind Power System
Fiberglass/Gelcoat Repair
Generator Repair & Installation
TRANSIENT BOATERS
CHARLESTON
Do you need a repairs while you are on the move? St. Barts Yachts is located at the Charleston City Marina located on mile marker 469.5 of the Atlantic Intracoastal Waterway in Historic Downtown Charleston.
Only a 20 minute drive from Charleston International Airport, the marina is ideally located in the heart of Downtown Charleston. The Historic District's world-renowned dining, shopping and cultural destinations are only a short stroll away.
St. Barts Yachts has several dedicated transient slips for vessels needing repair underway. Many of our repeat clients plan their trips North and South with a stop at St. Barts Yachts in Charleston for seasonal maintenance. St. Barts Yachts' Service Team is sought out by discriminating boaters who want the best repairs, installs and refits for their boats. Plan a trip to Charleston and stop by St. Barts Yachts to get the best service in the Southeast.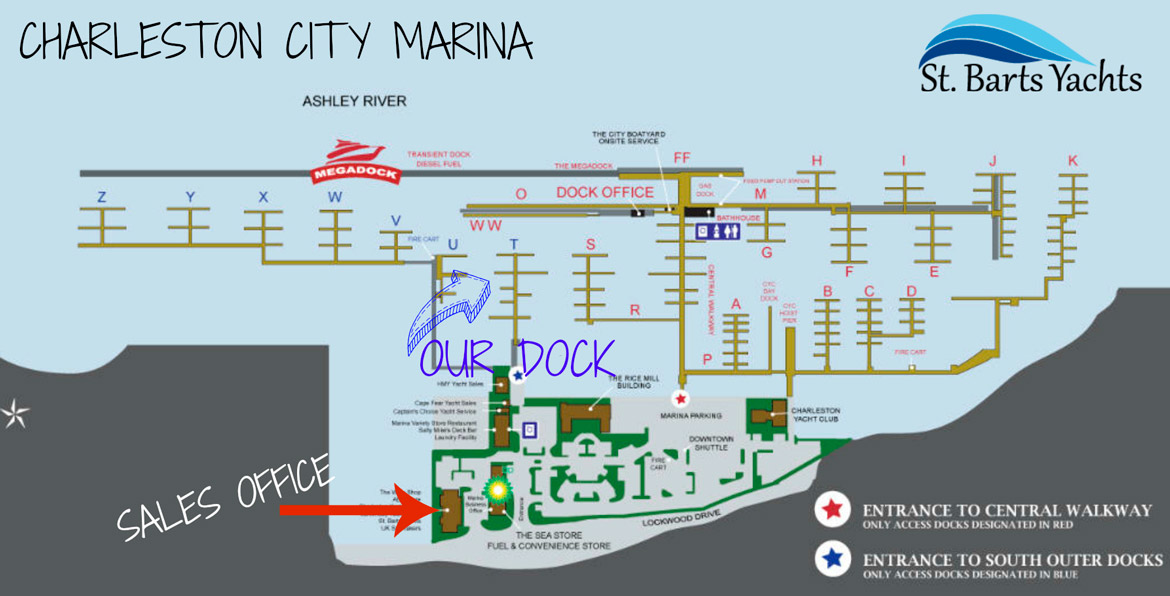 ORIENTAL
In Oriental, NC St. Barts Yachts is located adjacent to Zimmerman Marine Service right off of the ICW. Zimmerman offers protected docks and all the services you could need to repair your boat.
Zimmerman Marine Service, Inc.
They have a car available for you to use if you would like to explore Oriental and get groceries. There is an air conditioned lounge for you to use and they have shower and laundry facilities available as well. Oriental is a wonderful, boater friendly community and a great place to visit while your boat is being repaired.
Prefer to do your own work? No problem. Zimmerman has a parts department onsite for anything you need and a knowledgeable staff if you encounter a project that is more difficult than you would like to take on yourself. They can help you plan out your repairs or you can work entirely on your own. Oriental has all the resources you need to complete your work.